August 13 2022
This seemed like a great thing to share…
this "mist" keeps rabbits and deer off your Dahlias, well it worked for mine!
Deer spray recipe (IT WORKS!)
Makes 1 gallon (I used a gallon milk jug)
2 beaten eggs
1 cup milk, sour cream, yogurt or similar
1 teaspoon liquid dish soap
1 teaspoon cooking oil
30 drop of essential herb oil (clove, eucalyptus, cinnamon)
Top up with water & mix well.
Strain
Mist every 2 weeks.
April 3 2022
in case you bought tubers recently… here are some tips! click the pdf befow.
Oct 2020
TO DIG OR NOT by Cathrine Featherby
The dahlia in this photo is Cat's Hot Lips.  The tubers can be left in the ground and if so, bloom much earlier as this one comes up early.  It's an insect magnet so I do leave some in, but not all, so I don't lose it during a more severe winter.  Most of our dahlia tubers are dug, cut up and stored.  Some dahlias have tubers that are more delicate and can never be left in while others, especially some older varieties will make it through all but the harshest of winters.
Dahlias wintered in the ground do best in an area with well drained soil that is not likely to freeze.  They benefit from a thick covering of leaves (to be removed early spring).  I like oak leaves as they seem to repel more water, keeping the soil underneath dryer.
Oct 13 2020 – After the Storm
This photo was taken after a storm in 2019 which even turned the umbrellas inside out.  We did have lots of new flowers coming so a good clean-up and we were up and running again.  The recent storm was later in the year and we already had the heavy dew ruining our flowers so the garden looks much worse.  We are starting to cut down the plants as they are not in a well drained area.
A good thing to do before cutting down your plants is to document how well they grew and produced in that area.  I use a spread sheet following the plant location by row as there are 5 rows in the upper garden you see in the photo.  Use whatever method works for you.  We get a lot of shade in some areas and mostly shade later in the season so I note if the plant did well, needs more sun, and in some cases less sun.  Some bright colours, especially those that fade, do better with less sun.  If the plant was too short or tall for those around it I note where to place it the next year.  Some cultivars won't be grown the following year as that garden is not suited to them.  If the plants quality was not good I note those and dig them first, discarding the whole clump into the garbage hoping to never pass on poor quality plants.  I like cultivars that are floriferous, have strong stems, and are show quality but work well as cut flowers.
Aug 13th 2020
If you haven't started to fertilize using a higher second number like soluble 15/30/15 or granular 8/24/16, now would be a good time to do so.  It promotes large, healthy blooms.  An addition of a handful of epsom salts to each plant will provide great colour to your blooms.  I have used all three.
Attached are the first blooms of Elsie Huston  Flower size large / Informal Decorative / Dark Pink
Cathrine Featherby
We are trying something new during this stay at home season…
items that would have been mentioned at the next VDS meeting
Planting your Dahlias … by Cathy Featherby
–   CHOOSE AN AREA WITH AT LEAST 6 HOURS OF SUNLIGHT
–DAHLIAS WILL GROW WHEN THE SOIL REACHES 50 DEGREES,
MID APRIL TO MID MAY
–BE SURE YOUR SOIL IS NOT TOO WET OR TUBERS CAN ROT
PREPARE YOUR GARDEN PLOT OR AREA
–  REMOVE WEEDS AND TILL, TURN YOUR SOIL OVER BY HAND, OR PREPARE IN YOUR USUAL MANOR.
–ADD COMPOST, MANURE OR WHATEVER YOU USUALLY USE TO ENHANCE YOUR SOIL.
.
–PREPARE A LIST OF YOUR DAHLIAS AND WHERE YOU WANT TO PLANT THEM
DIG YOUR HOLE 10 TO 12 INCHES DEEP AND PUT WHATEVER WORKS FOR YOU INTO THE BOTTOM, OR NOTHING.
EG:  BONE MEAL or MANURE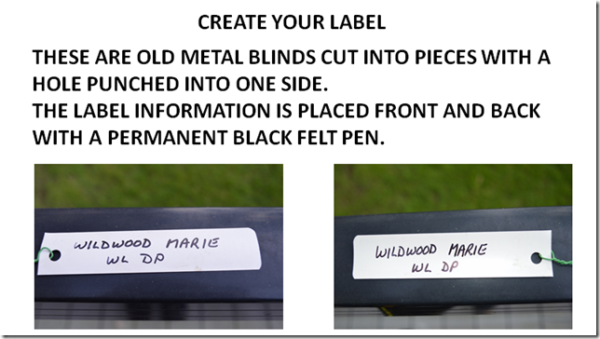 Happy Planting!
–
add-on from Phil Newton
The only thing that I might do different is that as soon as I put in the stake I label it. Both on the top and at the bottom. Also I always add bone meal and 8 24 16 around the irrigation ring.
The reason we dig 12 inches deep is to cover the bone meal so the hole end up deep  enough to sink the potted plant into. Like a tomato it doesn't hurt to over bury the stalk. With a bare tuber
you put it 6 inches deep (bone meal in) cover with soil leaving the growing tip visible.  I always put a plastic cup around the growing tip as slug loves them but quit after the plant stalk stars growing.
The bone meal really only kicks in after a full year in the soil.
–
We usually get a frost in April, don't start planting outside too soon. Flower moon early this year, May 7th. Could mean we can plant early in May.