If you've ever wondered about how the Victoria Dahlia Society, the Pacific Northwest Dahlia Conference and the American Dahlia Society all fit together then this post is for you.
One way to think about it is to imagine a dahlia plant. The American Dahlia Society is the main stem, Dahlia Conferences are the branches and the local societies such as the VDS are the flowers/leaves.
The American Dahlia Society promotes and supports the growing, showing and enjoying of dahlias in North America. Specific roles include:
to define dahlia flower classification and standards within North America
to maintain and issue the annual Dahlia Classification Handbook
to maintain the "Guide to Judging Dahlias"
to define the accreditation exams to be taken by the three levels of dahlia judges
to define dahlia seedling bench criteria
to approve and monitor dahlia Trial Gardens
to issue quarterly bulletins
to disseminate/share information across various dahlia conferences
Across North America there are seven Dahlia Conferences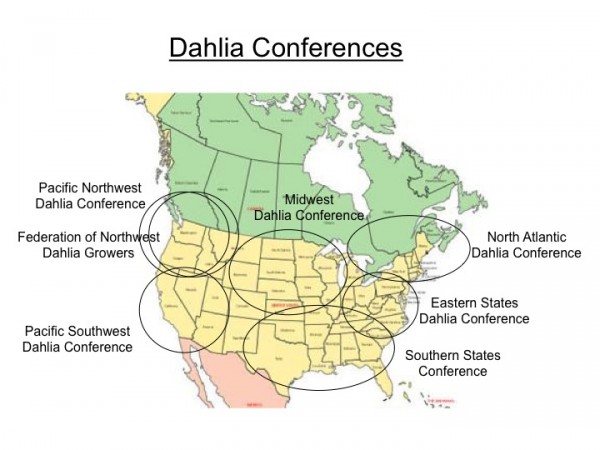 The role of the Conferences is to:
identify and ADS Regional Vice President who attends quarterly ADS meetings providing regional conference input and act as a conduit for information from the ADS to member societies
provide coordination across the various dahlia societies within their particular regional Conference
maintain judging records, annual judges reports and team leader evaluations of Conference members who are judges
provide the Roster of Members & Judges each year
Local Dahlia Societies (of which the ADS lists 76 on their web site) fill the role of promoting the dahlia flower through education, meetings/programs, mentoring, flower shows, judging workshops, etc. The Pacific Northwest Dahlia Society, of which we are a member, is made up of 10 local Societies.
You can belong to all three levels of dahlia organization. The following is a brief description of the benefits of membership in each of the three levels
ADS
new Dahlia Classification Handbook
four Quarterly Reports
Fabulous 50 and Cream of the Crop lists
PNDC
maintain judges records
annual Roster of Members and Judges
VDS
monthly meetings for information exchange
subsidized social events (summer BBQ & Christmas dinner)
members tuber sale (prior to public sale)
annual summer Dahlia Flower Show
judging workshops/seminars