Labelling Tubers for the Sale
Thanks to Wendy and Pat we have the following description of how to create tuber labels for the sale using the Avery software.
Download and install the Avery software from one of these links. (If you don't already have it)
Avery for PC
Avery for Mac
The following description is for a PC
Save the attachments (that you received in the email from Wendy & Pat) to a convenient place (where you can find it) I suggest you create a new folder in My Documents and name it Dahlia Labels.
With Avery (installed and open) select open existing project.
4. Next you get this
Go to the dahlia label folder and select Chilsons Pride.
When you open Chilsons Pride you get the picture below.
There is one red tab and several yellow tabs. All work is done in the red tab.
What you put on the red tab goes on every label on the sheet. What you put
in a yellow tab only goes on that single label. It is much easier to do all work in the red tab and select how many labels of each variety you want with the print program. You will see how easy it is when you print.
The first thing to do is set up the label template for the size of the label.
Click File then Change Template. Select the Avery item number you want to use. The item number is on the front of the label package. For members
who used the program in previous years the number is 5159 for 1.5 x 4 inch labels.
Printing
Click File (top left corner) then Print.
This is what you see.
The Properties box lets you select paper type, print quality, etc.
Under selection, select Range and enter the number of labels you
Require i.e. 1-7 to print 7 labels.
If you want a full sheet (14) select All.
Here is where you select the start position on the label sheet.
If you had printed 6 of a previous label you would select position 7
Print Preview will verify everything is OK.
The Options box gives you this.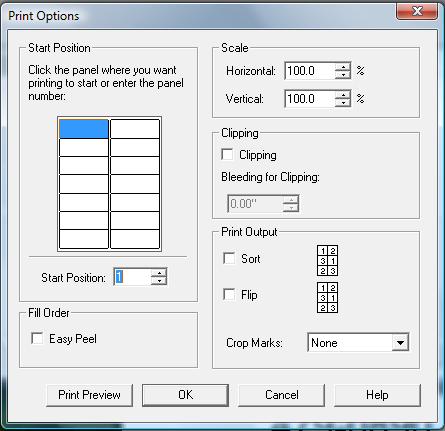 Staples sells Avery labels. Avery # 5159 is the label this program
Is set up for. Staples 1400 labels (#5159) for $34.99.
5159 is a laser label. Staples told me you can use laser labels on
an inkjet, but you can not use inkjet labels on a laser.